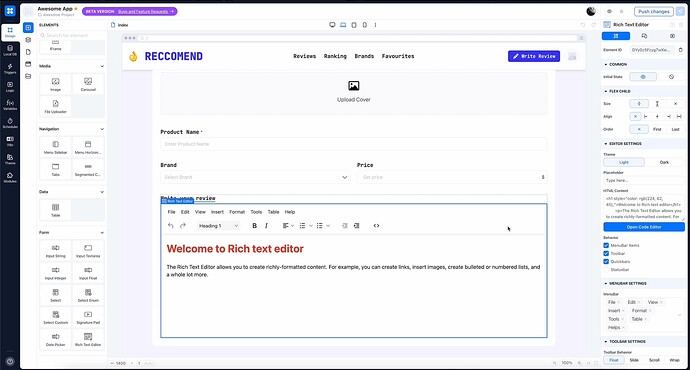 New UI component already in AppMaster - Rich Text Editor!

The Rich Text Editor is a versatile UI component that allows users to create and edit content with ease.
Key Features:
WYSIWYG: The editor allows users to edit content using a "What You See Is What You Get" interface, similar to a Word editor.
Formatting Options: Users can easily customize their content's appearance with formatting tools like text styling, font selection, size adjustment, color palettes, paragraph alignment, and lists.
Media Integration: Seamlessly embed images, videos, and links within the text.
The Undo/Redo feature lets users review and revert changes, providing a safety net for content editing.
The component can be easily customized with the Settings Panel and business process blocks, making it highly adaptable to your specific needs.
The Rich Text Editor outputs HTML, simplifying integration with other web components.
Note: If you use multiple Rich Text editors on a page, ensure they have the same theme.